Karl Smith, DDS
I see dentistry as the intersection of art and science. It enables me to use my artistic skills in creating aesthetic results and to use evidence-based scientific methods to help people achieve healthy, beautiful smiles.
I love working with my hands and taking the time and effort to get every detail right. This is what brought me to dentistry in the first place! Being able to create something that literally puts a smile on someone's face continues to excite me today. Helping people to be pain-free or to smile with confidence is rewarding in a way that very few things in life can equal.
I'm inspired and motivated to provide the best care that is individually tailored for each patient. The most profound gift of this profession is that it's taught me to a better listener and to withhold judgement because everyone has a story.
Here is more of my own story…
Education and Continuing Education
I was born in Boston and moved to Sweden as an infant. I lived in Stockholm until age 14 when my family returned to New England, where I spent the rest of my formative years.
I earned my Bachelor of Science in microbiology at the University of New Hampshire, and received my Doctorate of Dental Surgery from Howard University in Washington, DC. After that, I entered the Lutheran Medical Center's advanced education in general dentistry residency program, and underwent postdoctoral clinical training in Boston.
I consider myself a lifelong learner: I love studying and learning for their own sake. Having studied microbiology in college, science has always been important to me. I take continuing education courses taught by specialists in endodontics, oral surgery, periodontics, orthodontics, implants, cosmetic dentistry, and sleep apnea, all so I can stay up to date with the latest developments in all areas of dentistry. Continuing education enables me to bring the best evidence-based dentistry to my practice and to be the best clinician possible for my patients.
Professional Affiliations
Our Office
I am very fortunate to have a highly skilled team with extensive experience and many years in the dental field. My team shares my passion for helping people, and they treat patients as though they're family. Everyone who walks in the door is treated with great care, respect, and compassion.
My team and I love getting to know our patients and earning their trust. We will go the extra mile to ensure that not only do patients feel special, but they also get the best care possible. We practice state-of-the-art dentistry in a warm and friendly atmosphere, and we work closely with specialists and lab technicians to deliver the best results every time.
Since our practice has been serving the Tacoma area for more than 30 years, I have had the honor and pleasure of treating many long-time, multi-generational patients, as well as people who are new to the area. I love the sense of community here, and I love getting to know my patients and hearing about their lives, families, jobs, and interests. It is one of the most fulfilling aspects of my work as a dentist.
Family and Community
My wife and I met as students and, after more than 20 years together, we have a large extended family that spans several states, countries and continents. Family gatherings are always fun and it's been a blessing to have such a multicultural family.
My passion for working with my hands extends into the kitchen. I enjoy cooking and sharing culinary creations with family and friends. I like baking because it uses the same skills as dentistry: precision, using special tools, and creating something aesthetically pleasing. I also love learning about other cultures, peoples and histories, whether through books, traveling, or trying new cuisines. In my free time, I enjoy reading, traveling and exploring the Pacific Northwest. I try to stay active by participating in local 5K runs. I hope to run a marathon someday!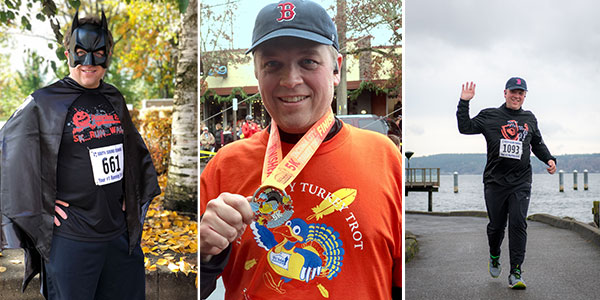 I'm very fortunate to be part of an amazing community here in Tacoma and volunteering allows me to give back to the community. I find opportunities to donate my time and services at local organizations and especially through projects sponsored by the Pierce County Dental Society.